Lecture at "Photography as Contact Zones: Migration and Cultural Encounters in America"
Helene Roth gave a lecture at the conference "Photography as Contact Zones: Migration and Cultural Encounters in America" on the 20-22 June 2018 at the IADT in Dún Laoghaire. The conference was organized by Dr. Justin Carville (Historical and Theoretical Studies in Photography, IADT) and Dr. Sigrid Lien (professor in art history and photography studies, University of Bergen).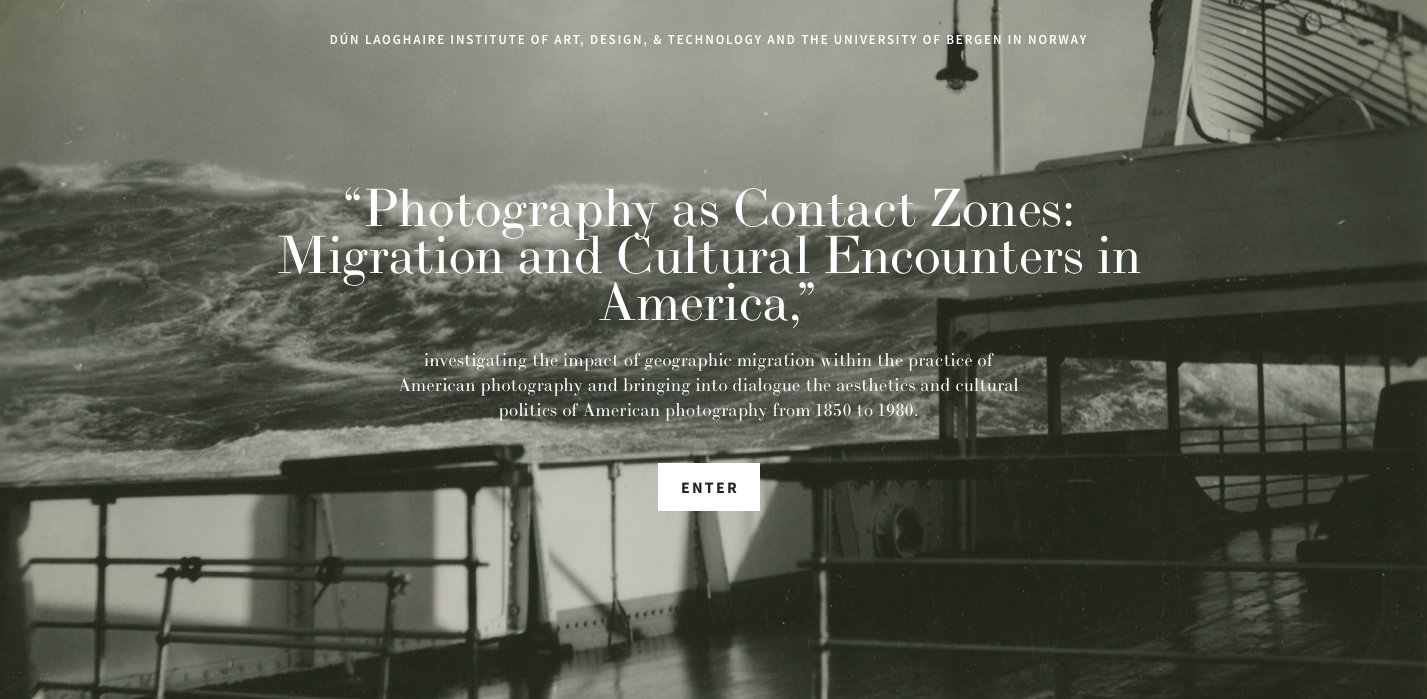 "Photography as Contact Zones: Migration and Cultural Encounters in America" investigates the impact of geographic migration within the practice of American photography and bringing into dialogue the aesthetics and cultural politics of American photography from 1850 to 1980.
Roth's lecture focused on the "First Pictures" of European emigrated photographers which they took in the 1930's and 1940's after their arrival to New York. While emigrated writers and journalists often were confronted with problems caused by the new language, photographers could use their cameras as a transnational and universal medium. Many of them explored their new hometown by taking pictures of this fascinating metropolis. They were overwhelmed and impressed by spatial dimension of skyscrapers, vanishing points, light conditions as well as the big avenues of the metropolis. The camera served as a medium to articulate a new urban vision and the personal feelings of exile.
Examples of their first photographs after arriving to New York are images of Joseph Breitenbach, Hermann Landshoff or Lisette Model, which were emigrated via Paris or Marseilles to New York. In 1942 Joseph Breitenbach created an experimental and surrealistic photomontage We New Yorkers, where two skyscrapers were photographed at night and combined with a colorful diagram of the human nervous system. After her emigration in 1939, Model started a series which articulates the experimental and creative way of seeing and the first impressions of this metropolis. In the series named Running Legs she followed the hectic and dynamic life of the newly experienced city and focused her camera in close-up pictures on the passers-by. Instead of a full portrait she decided to take only the view of the running legs. Landshoff also explored the city with a creative way of seeing in a series of three infrared photographs. It can be claimed that the 'new' New Yorker Hermann Landshoff opted for a photographic process through which he could feel his new hometown in a different way. In this respect, the terms of arrival and experiment should be considered interrelated.
In the context of photography and migration/emigration studies these examples and pictures are less noticed so far and represent a very interesting research topic. Which position take these pictures in context of exile and migration studies linking to the role of photography? Can the process of photography serve as medium meliorating and approximating to new homelands and cultural encounters? How does the universal character of photography facilitate shortly after the emigration the visual transfer of migratory experience?
See further information to the conference and the project: https://www.photographyascontactzones.com