METROMOD's second digital project: an archive of artistic and intellectual exile is now online and ready to be explored from all over the world!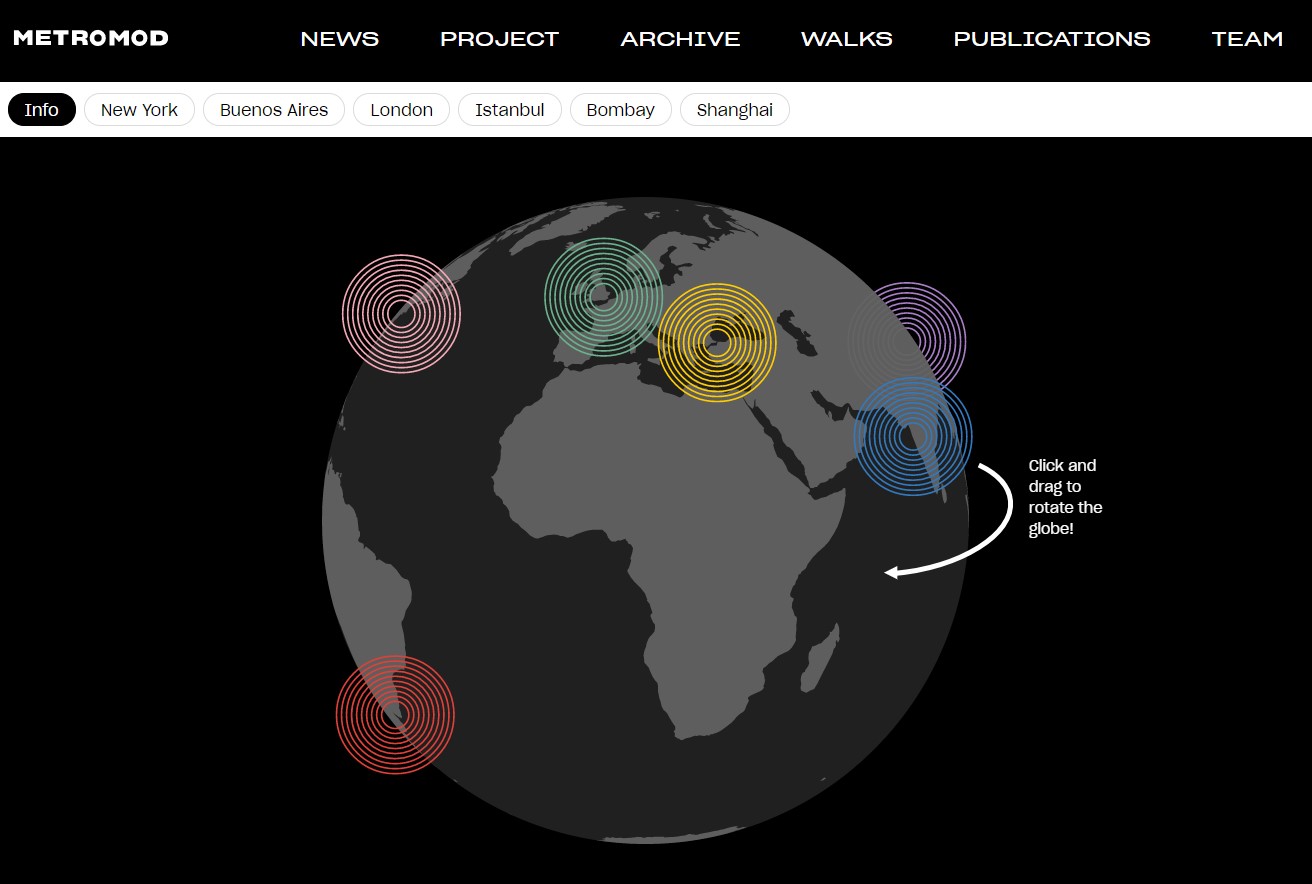 We are very excited to release our METROMOD archive of modern artistic and intellectual exile in six global arrival cities (Bombay, Buenos Aires, Istanbul, London, New York, Shanghai). This curated archive develops an interactive map of artists and intellectuals living and working in urban exile between the 1900s and 1950s. The objective was to build an online archive that also includes – beside prominent protagonists – less acknowledged or known persons. Each entry is linked to an address on a contemporary city map; often representing residences, studios or other workplaces. The spatio-temporal mapping can reveal networks and thus show how the émigré scene was interlinked with the local artistic scene as well as with other METROMOD cities.
Under the following link you have access to our archive globe, from where you enter the different cities: https://archive.metromod.net/
You can enter the cities via a rotating globe or by selecting a city via the navigation bar. The entry point for the archive is either a rotating globe, where you can select each city with a click or by choosing the corresponding city in the navigation at the top of the website. During the last three years, the METROMOD team worked with a database structure to store archival information which is now accessible under four main categories: ⬤person /■object / ✶ event / ▲ organisation. Contributions to these four categories were located on the respective city maps. Some of the archives feature entries written by external as well as local authors, thus contributing to a plurality of voices and perspectives.
By clicking on the card deck, an overview of all entries from the corresponding METROMOD metropolis appears. Using the search function or the detailed view, it is possible to switch between the cities, thus revealing the multi-layered interconnections of urban exile of female artists and intellectuals in the modern era.
We are so thankful to those who gave us permission to work in private and public archives, make use of materials and documents, gave advice and contributed with their knowledge to the existence of this archive.
Our archive is based on the CMS/database nodegoat by LAB1100. The archive was designed by Jamal Buscher/Bureau Johannes Erler and programmed by LAB1100.
Enjoy exploring objects, persons, organisations and events of modern metropolitan exile!