Open Call "MEMORY PERSON"
"Many artists from Munich went into exile, and many artists come into exile in Munich today. Become the "Memory Person" to interact with passers-by on the streets to collect and record memories and present experiences of exile and migration in Munich!"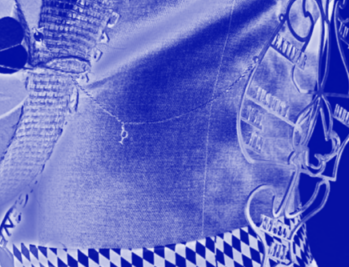 Following up on the participatory nature of the public artwork Munich Originals Revisited by the artist Franziska Windolf and curated by Mareike Schwarz, we are searching for collaborators to co-perform the textile monument. The Open Call "MEMORY PERSON" addresses people interested in enacting the public persona "Memory Person". We welcome in particular those in exile in Munich today or those who have migrated to Munich in the past few years to share those experiences. The "Memory Person" not only vividly commemorates past exile, but also collects stories and information from passers-by about exile and migration in Munich today.
Activities of the "Memory Person" (Erinnerungsmensch)
To dwell in specific locations with a connection to Munich's migration history (e.g. former Agfa Kamerawerk in Giesing, East cemetery)
To record the wishes of passers-by for their future life in Munich (by sound recording and/or note on parts of the textile monument intended for this purpose)
To collect memories about former residents of Munich who were emigré artists/writers/intellectuals
In exchange, spread parts of the textile monument intended for this purpose as a give-away to passers-byPlease note: The "Memory Person" and their presence in public spaces in Munich will be documented and photographed.
Dates
Dates to participate are currently: 
1.6.

3.6.

4.6.

11.6

19.6.2023
Further performance dates will be:
Contact
If you are interested or have any questions, please contact franzi.windolf@posteo.de with some info about you and your interest in the job. The artist Franziska Windolf is happy to meet and discuss this in person!
Thanks to the funding received from Berufsverband Bildender Künstler*innen München und Oberbayern E.V. Munich and global dis:connect, the collaborators/performers receive remuneration for their work, and they become co-creators of the public artwork.