Series #2: On the trail of Olga Gurski and Boris Kriukow, Ukrainian artists in Buenos Aires
During the first half of the twentieth century, Buenos Aires was an important arrival city for Europeans fleeing dictatorial regimes. Argentina's colonial past, supplemented by massive waves of immigration, created a cosmopolitan nation. Among the thousands of exiles arriving each year, Ukrainian artists Boris Kriukow and Olga Gurski settled in Buenos Aires with their little daughter Lidia in 1948.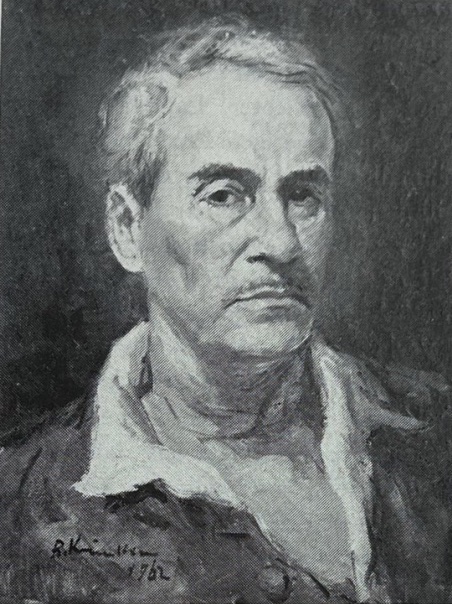 Boris Kriukow was born in 1895 in Orhiyiv, Bessarabia (now Moldova). He was a pupil of Fedir Krychevsky, an influential Ukrainian early modernist painter and brother of the graphic designer Vasyl Krychevsky, professor at the Kyiv Art School (1913–1917). Kriukow would later teach painting and drawing at that institution. Born in 1902, Olga Gurski received artistic training at the Kyiv Institute of Fine Arts, from which she graduated in 1929. Together, Olga Gurski and Boris Kriukow emigrated to Lviv and Krakow in 1943, and to Austria in 1944. Both continued their activity as artists, exhibiting their works in Lviv, Salzburg and Linz. Boris Kriukow used to work under the pseudonym Ivan Usatenko. Four years later, the artist couple and their daughter emigrated to Argentina, where they settled permanently for the rest of their lives. Boris Kriukow would die there in 1967 and Olga Gurski in 1975.
When they arrived in Buenos Aires, they found a multilingual and multicultural city. The large number of exiles had prepared the path for them, establishing networks and urban spaces open to newcomers. Boris Kriukow and Olga Gurski became Argentinian citizens and rapidly felt at home in the artistic milieu of Buenos Aires. Between 1949 and 1965, they both exhibited almost every year and held individual shows in the city's main art galleries: Galería Muller, Galería Van Riel and Salón Witcomb.
In Ukraine, Kriukow had already been a well-known graphic artist, thanks to his illustrations in more than 500 books throughout the interwar period. In his exile in Buenos Aires, he continued this activity in close contact with several publishing houses. He collaborated mainly with Atlántida from 1950 to his death, as well as with El Ateneo, a renowned Argentinian printing house, for which he became chief illustrator.
The illustrated press was an important medium for spreading their work or making a living. Coloured plates of Olga Gurski's canvases were published in the Argentinian magazine Para tí, a publication about everyday life aimed at a female readership. Boris Kriukow contributed with his caricatures to Mitlá [the broom], a popular Ukrainian illustrated humour magazine published in Buenos Aires by Iulian Serediak, in which other Ukrainian artists, such as Volodymyr Kaplun, also collaborated. Mitlá was founded in 1949 and lasted 42 years. This long duration turned the magazine into a crucial space around which Ukrainian daily life in the diaspora revolved, not only in Argentina but in other American countries as well.
This glimpse at the lives of Boris Kriukow and Olga Gurski is just one example among many of the emigrants who left behind their old lives and managed to fully integrate into Buenos Aires society.
Selected References:
Boris Kriukow, Boris Kriukow, Buenos Aires: Edición O. Gurski, 1970.
http://www.encyclopediaofukraine.com/picturedisplay.asp?linkpath=pic%5CK%5CR%5CKriukow%20Boris%20selfportrait%201963.jpg&page=pages%5CK%5CR%5CKriukowBoris.htm&id=27946&pid=5833&tyt=Kriukow,%20Boris&key=Kriukow%2C+Boris%2C+Крюков%2C+Борис%3B+Krjukov