Bombay's Spaces of Sociability: Migration, Exile and Contact Zones
An intense day of discussions about communities, culture and the city of Bombay/Mumbai.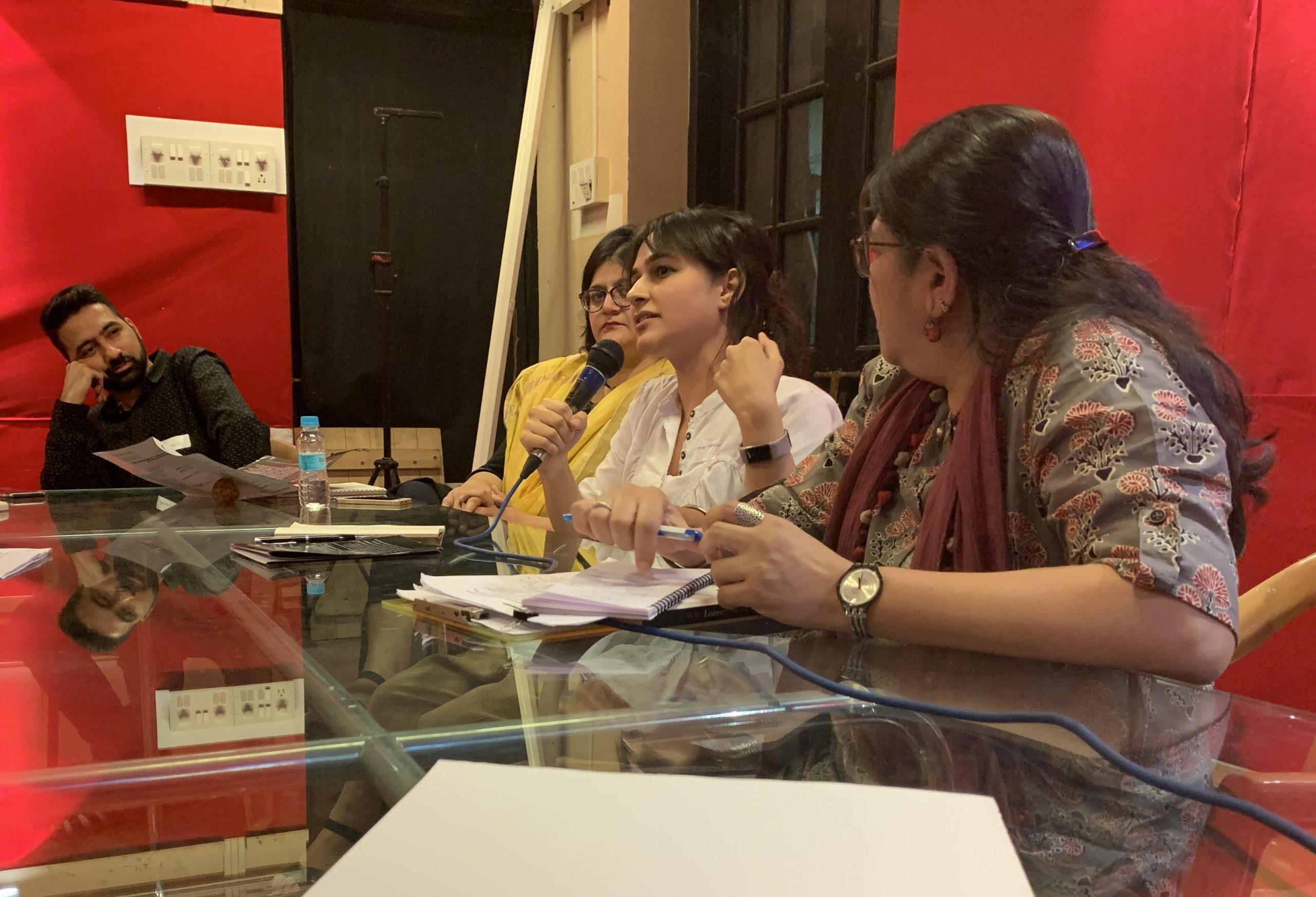 The workshop opened with a welcome and introduction by Rachel Lee and Mustansir Dalvi. Rachel outlined Metromod's conceptual framework, interdisciplinary methods and the aims of the workshop, and Mustansir underlined the importance of the Sir JJ College of Architecture as a place and an institution in the development of Bombay's cultural scene.
In his keynote, Kaiwan Mehta stressed the necessity of understanding neighbourhoods not as geographical areas but as real and imagined communities that can be traced and understood through biographical research. For him, the local exists as a shared time and shared space. He asked how by collecting stories about people and places we can contribute to writing bigger histories. Which questions should we ask to uncover where the micro urban neighbourhood level can open opportunities for understanding regional, national and international phenomena?
Swati Vijaya addressed the socio-spatial development of Mumbai's queer community in her paper. Arguing that the suburbs provided more accessible meeting spaces than "town", she asked how queerness was constructed through visibility in the city and if institutionalisation always had to be the conclusion of an emerging movement.
Pranoo Deshraju turned to the history of disco in her presentation on the members-only club Studio 29 on Marine Drive. Setting a new standard in the city's nightlife in the early to mid-1980s, Studio 29 was frequented by an internationally mobile set who were familiar with clubs in London and New York. As well as disco, Studio 29 offered readings and performances. Later clubs, including the more alternative and experimental Zenzi, have held Studio 29 party nights in homage to the spandex clad disco scene it embodied.
Like many clubs and bars before it, Studio 29 was located in a hotel. In her paper, Rachel Lee turned to the legacy of Bombay's hotels and their contribution to the city's sociability. Drawing on a case study of two hotels on Apollo Bunder – the Taj and Green's – she explored the intersections of the local cultural scene with exiled artists through art exhibitions, performances and associational activities that the hotels hosted.
Daksh Jain returned to Mumbai's queer community in his paper, addressing a variety of spaces and places in the city where the scene meets. He also underlined the importance of community groups and their meeting places online and in the city.
Raisur Rahman presented his research on the Anjuman-e-Islam – a scientific and literary organization established to promote education among Bombay's Muslims. Founded by a group of prominent Muslims in the late 19th century, the institution has gone beyond its remit as a Muslim school and engaged in many wider societal issues, such as the plague or the Age of Consent Bill. Its central location opposite Victoria Terminus and next to the Sir JJ School of Arts and Architecture helped establish it as a significant institution in the city's cosmopolitan fabric.
Mustansir Dalvi read a selection of poems on Bombay and its shifting urban identities from a variety of perspectives and times. Originally written in English, Hindi and Marathi, the poems evoked a range of urban imaginaries – from the life on an illiterate prostitute writing to her family through a proxy, to a young Bombayite remembering a defunct Irani cafe through daydreaming about a place to meet a potential lover.
A lively panel discussion with Simin Patel, Sameera Khan, Sarover Zaidi and Kaiwan Mehta concluded the workshop. In their individual inputs, Simin discussed developing an understanding of the city's history through guided walks and her oral-history based research on Irani cafes; Sameera introduced her work on women's use of public spaces in Bombay and the fundamental right to loiter; and Sarover explored the effects of the JJ Flyover on the Muslim neighbourhood below. Methods for conducting urban research (including walking, collecting oral histories and archival work), the positionality of the researcher, and forms of communicating research results were among the topics considered in the debate that followed.
Throughout the workshop the audience asked many thought provoking questions and provided valuable insights from their own work and experiences, adding greatly to the richness of the discussion.